Available Weekdays or Saturdays only
Prerequisites: High School Diploma or Mature student test.
Contact Info
Contact Admissions office for availability and schedules.
Phone:

1-866-90-LOOKS(56657)
905-507-0024
Medical Aesthetics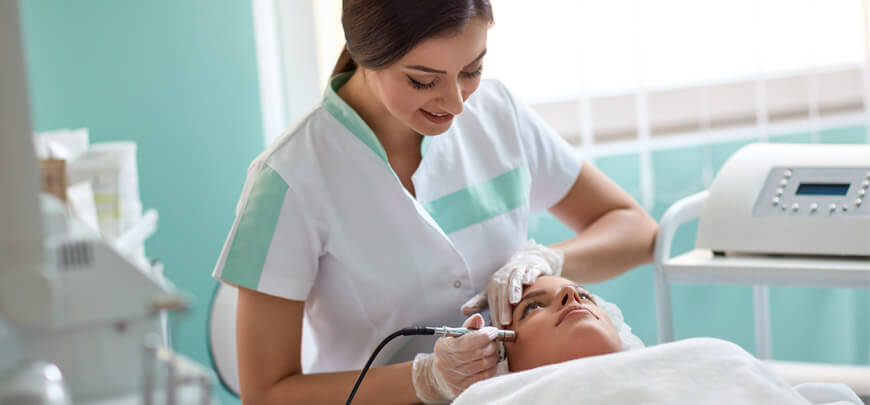 Course Description
This course is designed to provide students with a detailed overview of best medical aesthetic practices for a salon and spa. It introduces topics that range from the technical to the soft skills required for success. Topics covered in this course are: Advanced Aesthetics Practices, Microdermabrasion and Skin Care, Facial Analysis, Non-Surgical Face Lift, Skin Peels, Lumicell Wave 6, Energy 900, Soli-Tone 2500, Vasculyse, Amino and Filaggrin Based Antioxidants.
Course Philosophy
In this course, it is expected that students will work to achieve a basic understanding of appropriate medical aesthetic practice. It is hoped that everyone will develop consistent best practices expected in salon and spa businesses. A focus of consistent/best practice and professionalism is emphasized in this course.
This Course includes the practical and theoretical skills including:
Skin Care Fundamentals
Microdermabrasion
Non-surgical Face Lifts
Peels and Peeling Agents
Cellulite and Fat Reduction Treatments (Lumicell Wave 6)
Accent (Skin Tightening)
Local Light Energy, Impulse Micro Currents, Local Photo-Stimulation
LED Therapy Treatments (Soli Lite & Soli Tone)
Vasculyse Treatments (including removal of skin tags, cherry angiomas, ruby points, milia, cholesterol desposits, capillaries and more)