Includes Classes with a dedicated Instructor. Available Weekdays or Saturdays only.
Prerequisites: High School Diploma or Mature student test.
Advanced Academic Standing
Advanced Academic Standing may be awarded to those individuals that are aesthetic diploma graduates, medical professionals and industry working professionals (with supporting documentation).
Contact Info
Contact Admissions office for availability and schedules.
Phone:

1-866-90-LOOKS(56657)
905-507-0024
Laser Technician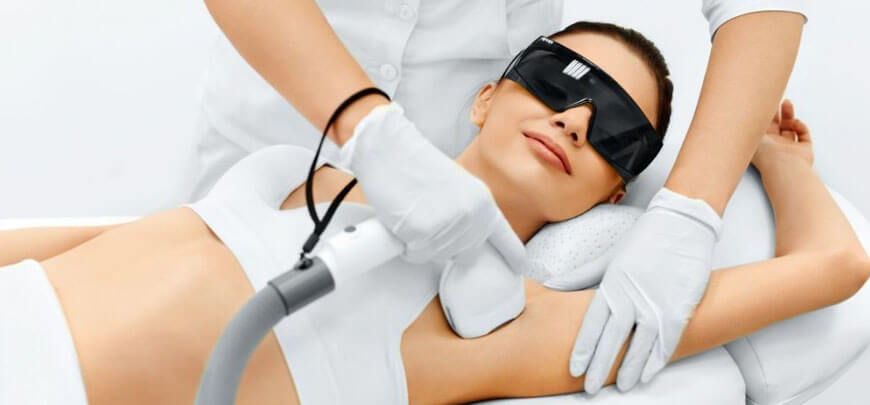 Course Description
This course is designed to provide students with a detailed overview of best laser technician practices for a salon and/or spa business. It introduces topics: Basic Laser Theory, Skin typing, Intense Pulse/Light Theory, Hazards of Light Based Systems and Precautions to be taken in laser and IPL Safety Officer, Laser and IPL Aesthetic Applications, Equipment Management, and Practicalities Summary.
Course Philosophy
In this course, it is expected that students will work to achieve a basic understanding of appropriate Laser technician practices. Each student will begin the course with different ideas regarding what laser practices in salon and spa is, but as the course progresses, it is hoped that everyone will learn consistent best practices needed in this field to be a competent practitioner. Consistent practices, safe practice and professionalism is a vital focus for laser technicians in this course.
Laser Biophysics
Physics
Interaction of laser beam with living tissue
Laser Safety
Definitions
Classes of lasers
Licensee responsibilities
Laser Safety Officer responsibilities
Laser Safety Committee
Laser equipment safety
Laser controlled areas
Signage requirements
MPE limits
Laser safety eye wear
Reporting of laser incidents
Non-eye and skin exposure hazards of lasers
Clinical Applications of Lasers/IPL
Photosensitizing drugs/chemicals
IPL
Laser hair removal
Laser vein removal
Laser skin rejuvenation
Vascular & pigmented lesions removal
Acne, scars, wrinkles, hypopigmentation removal
Deep thermal heating
Laser tattoo removal
Laser collagen remodeling
Laser peel and skin resurfacing
Laser Hair Removal and Laser Safety Training
Join our highly trained and certified staff as they lead you through an informative session on laser hair removal and laser safety. Our professionals are certified in laser training and laser safety. You will learn:
Hair removal - the basics
How to treat the different skin types
Typical reactions, treatment times
How to present outcomes to your clients
Risks and hazards
The different phases of hair growth
The 3 primary types of lasers
Complete safety of laser operation
Laser hazards, safety... and much more!
You will receive a certificate of completion for laser hair removal and laser safety to display at your clinic.
Laser Skin Resurfacing
During a laser facial procedure, a pulsed laser light penetrates the skin, removing small columns of tissue and depositing heat into the deeper layers of the skin. In this way, the damaged, superficial layers of skin are able to slough off, while the deeper layers of cells are stimulated to produce fresh, healthy cells and more collagen and elastin fibers, which provides your skin with youthful suppleness, tightness, and tone.
Student Clinic Component
LOOKS Academy's Esthetics Clinic is an integral part of the Professional Spa Therapist program. Students practice newly acquired skills (both technical & interpersonal skills) in supervised clinic sessions that begin at the end of term 1.
The Student Clinic provides students with the opportunity to develop & practice their skills through interaction with the general public.
LOOKS Academy's Student Clinic is open to the public, by appointment, during the school year. Appointments may be made by calling 905-507-0024.
Each clinic session is supervised by a member of the Esthetics faculty, who is a qualified Esthetician, and is able to provide guidance and assistance to the student. Clinic sessions run afternoons and evenings during the week.
The Student Clinic ensures that Professional Spa Therapists are work-ready upon graduation.