Tuition: $4800
Online Theory $1449
5 Days Practical $3351
Financial Assistance may be available if you qualify.
Contact Info
Contact Admissions office for availability and schedules.
Phone:

1-866-90-LOOKS(56657)
905-507-0024
Mon-Fri 10:00am - 5:00pm
Saturday 10:00pm - 5:00pm
Advanced Laser Practices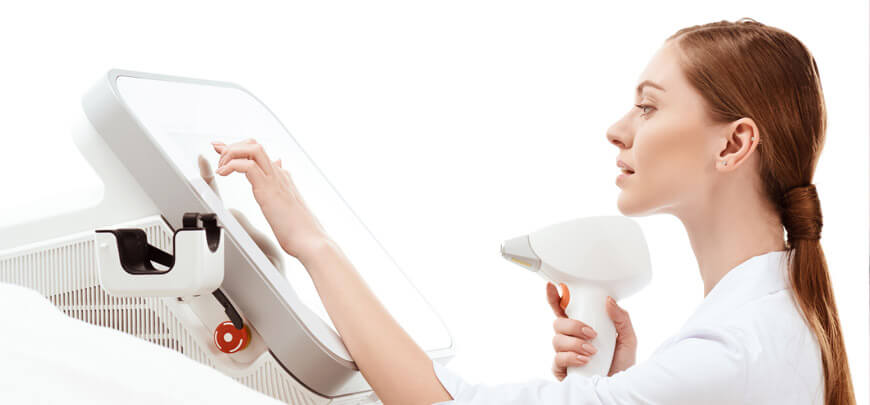 CO2 Laser
CO2 Lasers are generally ablative lasers used to treat scars, warts, wrinkles and other deeper skin flaws. Erbium Lasers can be ablative or non-ablative. They promote collagen remodeling, making them popular options for treating fine lines, wrinkles, skin laxity, and age spots.
Laser Resurfacing (Fractionated, Erbium- Pixel, 1550 YAG-Fraxel)
Detailed descriptions of the various depths for resurfacing. Distinguishing application of these depths and how to apply these modalities to achieve improvement in acne scars, large pores, Kerionized Skin, fine lines and overall textural improvement.
Afternoon: Hands on instruction to include practise consultations, questions and answers.
IPL (420, 515, 540, 570, 640 wavelengths)
Intense pulse light theory on all wavelengths, recognizing their application and apply them to the appropriate skin types. Acne, pigmentation , vascular and hair removal techniques will be discussed in great detail.
Afternoon: Hands on instruction to include practise consultations, demos and scenarios, questions and answers.
Hair Removal (Alexandrite, Diode, ND YAG's)
Theory on various wave lengths, applications of those wave lengths to various skin types and how to apply those wave lengths to other various applications. Afternoon: Hands on instruction to include practise consultations, questions and answers.
Skin Tightening and Tattoo Removal
(Radio Frequency and Q Switch YAG)
Full theory instruction on both these wavelengths. How to combine radio frequency with various other modalities to achieve quicker results.
Plasma PRP
PRP is produced from a person's own blood. It is a concentration of one type of cell, known as platelets, which circulate through the blood and are critical for blood clotting. After a blood sample is obtained from a patient, the blood is put into a centrifuge, which is a tool that separates the blood into its many components. PRP is given to patients through an injection or PRP Machine. The benefits include increased Collagen Production, Reduced Fine Lines and Wrinkles, Tighter, Firmer Skin, Improved Moisture Retention, Enhanced Skin Tone and Texture. This treatment has also been shown to help with those who suffer from hair loss.
Microneedling
This treatment is also known as Collagen Induction Therapy (CIT). It is a system that uses a specialized pen with tiny needles on the end to then create micro holes on the skin. A specialized serum is then applied and then penetrated into the dermis. This treatment can help those with acne, dark spots or patches on your skin (hyperpigmentation), large pore, reduced skin elasticity, scars, stretch marks, Sun damage and even hair loss (also called alopecia).
Online Theory Education
What is laser
How is laser light created
How does laser work
Characteristics of laser light
Tissue interaction with laser light
Comparison of various wavelengths
What is IPL
Hazards of light based systems
Eye safety
Laser and IPL applications
Basic anatomy of the skin
Skin problems suitable for treatment
Treatments using green/yellow laser light or IPL
Acne treatments
Treatments using red or near infra red lasers or IPL
Treatments using ND Yag lasers
Skin rejuvenation techniques
Skin resurfacing lasers
Fitzpatrick Scale Skin Typing